Email newsletters is one of the most effective way to execute your marketing campaigns by reaching out directly to your subscribers who are basically your customers, readers, fans/followers or prospects. But the issue that many of us face is that, as the subscriber base grows or we want to send emails more frequently, the entire process can get a bit pricey when using services like Mailchimp, Campaign Monitor, Aweber, Signal, Constant Contact, GetResponse, LoopFuse, Sales-Push, Mad Mimi, Campaigner, Vertical Response, Benchmark Email, iContact, JangoMail, Boomerang and Ezine Director – unless our requirements can be fulfilled by their free plans.
There are some decent cheaper alternatives like Mailer Lite, Emailit and Campayn, But the best solution (IMHO) that I came across is Sendy – if one really wants to optimize on the budget and still get all the essential functionalities of an email marketing solution like reports, campaigns, editors for email content and obviously – sending emails.
What's the one thing every developer wants? More screens! Enhance your coding experience with an external monitor to increase screen real estate.
About Sendy – A Self-Hosted Newsletter App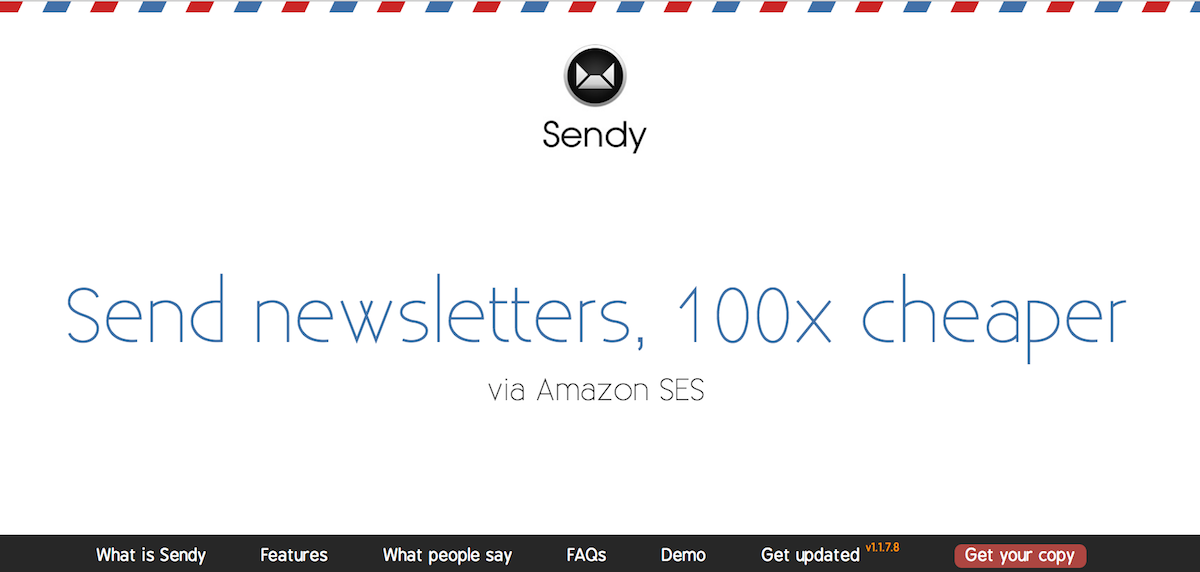 Sendy is a paid self-hosted newsletter application that you need to setup yourself on your servers. Once properly setup, it lets you send trackable emails via Amazon Simple Email Service (SES). Due to the emails getting dispatched via Amazon's servers, we don't have to worry about deliverability when sending bulk emails.
The app runs on PHP and MySQL and costs $59 (one-time fee). Installing it is very simple if you follow the Getting started guide. You just need to modify a few configuration files and then configure and setup various options in Sendy's web UI and Amazon's SES admin panel. Configuring Amazon SES to setup "from" email address/domains, bounce and complaints handling and getting access to sending 10k emails/day (which requires 1 day for approval) is the only time consuming process.
If for some reason you're unable to setup the software, then you can pay them $79 to complete the installation process on your behalf or just ask questions in the comments below.
Sending out Emails
Once you're done with the installation process, sending out emails is very easy. We start off by creating brands which are basically organized groups for various products, services, companies or customers you have. You can even give your clients access to their brands and let them manage and send their own newsletters.
Once your brand is setup, you'll need to setup a subscribers list by either manually entering name and emails or importing a CSV file containing a bunch of them. After creating your lists, you can add/delete subscriber, mass unsubscribe and export the list too.
Here's a quick view of the subscribers list section:
Next up, start creating your marketing campaigns. While creating a campaign, you need to feed in details like subject, "from" name and email and obviously the content of the emails which can be either plain text or neat HTML templates for a richer experience. You can also set reply-to emails and add attachments to the emails.
Here's a quick snap of the campaigns list view:
While sending the campaign, all you'll need to do is go to the campaign, select one or more subscriber lists and submit the form. It'll start dispatching emails to recipients in the background.
Beautiful Insightful Reports
Sendy helps you quickly get insights on how your campaigns performed with beautiful charts and reports. It gives you data like locations at which emails were opened, how many emails got bounced, unsubscribed, marked as spam, and opened, how many people clicked the links inside the emails (link tracking) and much more. That's really all you want from its email analytics!
Conclusion
Sendy is a great app if you want to cut down your email sending costs massively. I've used it myself and would definitely recommend to anyone else. The detailed stats, ability to create email lists, setting up campaigns and ability to send HTML emails to tons of people is all we want.
Few things that you may want to keep in mind is that if your bounce rate is high then Amazon may end up suspending SES in your AWS account. I'm not sure about what the exact figure for that is, but I assume that it shouldn't exceed 5-10%. Also in order to exceed this 10k/24hours limit (which is free apparently), you'll have to submit an extended access request to Amazon. They'll grant your request depending upon your credibility.
If you've been using Sendy, then share your experience in the comments. Got questions? Do the same!
Recommended from our users:
Dynamic Network Monitoring from WhatsUp Gold from IPSwitch
.
Free Download